Take a selfie with Bogucharskie Sunflower Seeds, upload your photo (selfie) on www.promo.agrosputnik.ru, get the largest number of votes and win one of three prizes:
iPhone6, LENOVO Yoga Tablet 10, AppleiPadmini 16Gb Wi-Fi.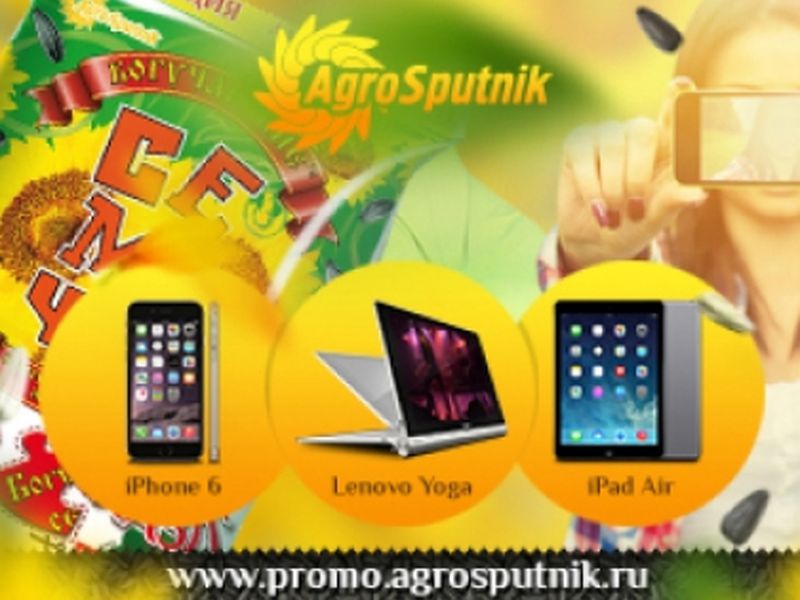 To be a participant of the prize draw, you should act as follows:
- Join the group of Bogucharskie Sunflower Seeds in VKontakte social network on http://vk.com/public90549756 or Odnoklassniki social network on http://ok.ru/group/54552806293512, having registered on the social network site and/or entered the social network site from your personal account,
- Buy the product (for details, see www.promo.agrosputnik.ru), keep a till slip to be submitted to the Provider in case you won one of the Grand Prizes.
- Take a selfie with a pack of Bogucharskie Sunflower Seeds or on the background of an image of Bogucharskie Sunflower Seeds (banners, posters or any other advertising medias with Bogucharskie Sunflower Seeds) (hereinafter – Entry).
- Apply for participation in the Contest by registration on http://: www.promo.agrosputnik.ru, filling in a registration form with indication of the following personal data: surname, name, patronymic, e-mail, sex, date of birth, place of residence (region), password to access your personal account, make a tick confirming your awareness of the Contest rules. During the promo period, a participant can be registered on the promo-site only 1 (one) time.
- Post your Entry on the official promo-site.
The awarding place will be defined after online voting.
The promo takes place: from 10 April 2015 to 10 August 2015 inclusive.
Good luck!