Sept. 30, 2019
Do you want to take a rest in Russia? Where you can find historical sites and all the time beauty! Then between 01/10/2019 and 26/12/2019, buy Etalon Sunflower Seeds in a promo pack, find a code inside, register it on www.ugolkirussia.agrosputnik.ru and win a trip to the cultural capital of our country, St. Petersburg!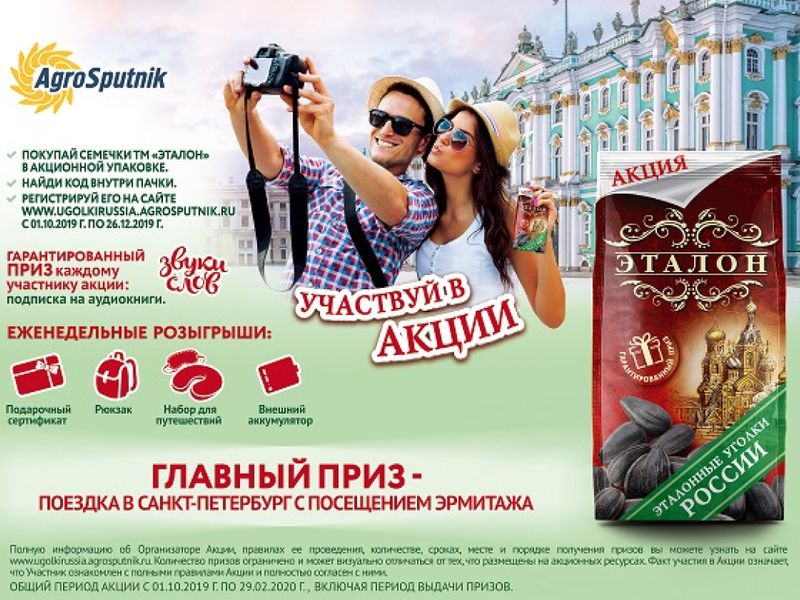 Take part in the prize draw and get a guaranteed prize, the subscription for the Sounds of Words audiobooks. Every week, those who managed to register the codes on the site would participate in the valued prize draw: Giftery gift vouchers, branded backpacks, travel kits, and powerful power banks.
Before the New Year on 27 December 2019, the grand prize will be drawn, the trip to St. Petersburg for two persons with visiting the second largest art museum in the world, the Hermitage! Do not miss your chance to visit the city of white nights and drawbridges. In the city which became a home city for Tsars of the Russian Empire! Being there, you will take a dip into the sea of impressions and be involved in the history of many centuries.
The entire promo period is from 01/10/2019 to 28/02/2020, including the period of giving prizes. The grand prize will be drawn on December 26, 2019 among all the participants of the promo. The number of prizes is limited and can be visually different from those posted on the promo resources. The number of daily registrations is limited. The fact of participating in the promo implies that a participant is aware of all promo rules and completely agrees with them. For details on the promo Provider, its rules, terms, location and awarding procedure, refer to www.ugolkirussia.agrosputnik.ru.